Coming Soon!
Sunday, April 26, 2015 – 2pm
a reading of The Winter's Tale
by William Shakespeare
Directed by Rebecca Patterson
Cast: Rin Allen*, Kelsey Arendt, Virginia Baeta, Lolita Brinkley*, Amy Driesler*, Natalie Lebert*, Nafeesa Monroe*, Vanessa Morosco*, Elisabeth Preston*, Antoinette Robinson, Gael Schaefer*
*appearing courtesy of AEA
All readings are held in the Bruce Mitchell Room at ART/NY – 520 8th Avenue, 3rd Floor, NYC
Tickets are free and very limited! To reserve your seats, email our reservation line with your name and number of seats desired.
---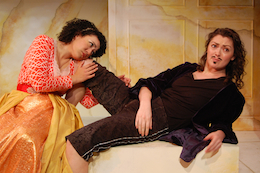 Last Season
Sir Patient Fancy
by Aphra Behn
Featuring Tiffany Abercrombie, Virginia Baeta, Karen Berthel, Julia Campanelli*, Amy Driesler*, Sarah Hankins*, Sarah Joyce*, Natalie Lebert*, Elisabeth Preston*, Antoinette Robinson
Directed by Rebecca Patterson